AMIR NAKHOSTIN-MORTAZAVI, THE STORY OF A CARPET, THE STORY OF A MAN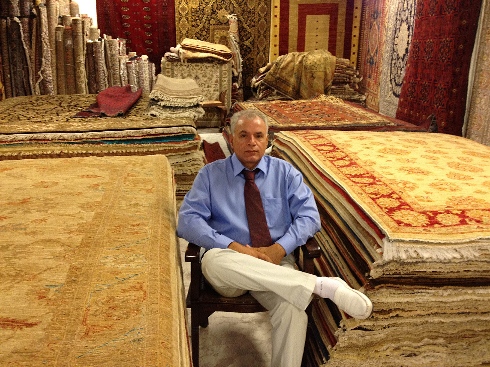 Dear friends and customers, following the course and evolution of life and with our expansion of our business to an internet e-shop, I have the urge to share my lifes' story with you.
I am one of those people who have been born and raised within the culture of hand-woven carpets.
My first steps, my first words, my first toys with siblings and friends were all experienced on top of carpets. Even my first books and poems were read on top of carpets. It was time for me to go abroad for studies and to open my wings; like on a magic carpet I flew to find myself in Italy but my mind was always on carpets.
It was there that I met my Greek wife Ekaterini Panagiotopoulou and together one day we decided to bond our lives and cultures and find ourselves to Greece where we built our hand-woven carpet business.
With labor and love for our field of expertise - hand-woven carpets- we have now reached to the point where we are able to responsibly service our clients and fulfill every possible need concerning hand-woven carpets.
A hand-woven carpet is something you cannot describe; it is something you can feel and live with.
A hand-woven carpet is an investment, is a work of art, is a treasure. For my wife, colleagues and I, our relationship with carpets is not just the trading aspect of it but it underlies an erotic sense. The reason behind it is because every carpet is a work of art , a poem, an erotic story, a scene in the countryside, a story from heaven.
It is pictures and words woven with color filled with labor, love and craftsmanship; it is culture. This is why I want to share my experience, because I believe I can transmit to you my love and passion for carpets as few can. I strongly believe that I responsibly can talk to you about carpets, sell them to you, maintain them for you and always be at your side with whatever you need.
We are at your side if you want in order to fulfill your needs as far as hand-woven carpets are concerned, not only during the selling process but at any time needed after that.
You see that even today that almost everything go through an electronic process of materialization some values do not perish. With the creation of our e-shop we are trying to reach to a greater variety of clientele selling a purely handmade and traditional product such as the carpet.
AT YOUR SERVICE
WITH RESPECT AND APRECIATION
AMIR NAKHOSTIN-MORTAZAVI
EKATERINI PANAGIOTOPOULOU
AND COLLEAGUES
Exhibition room
Address: Gr Lambrakis 28-30 Glyfada 16673 Athens Attica Greece
Tel: +30 210 96 80 339
Fax: +30 210 96 80 339